Codes & Standards
The Solar America Board for Codes and Standards (Solar ABCs) collaborates and enhances the practice of developing, implementing, and disseminating solar codes and standards. The Solar ABCs provides formal coordination in the planning and revision of separate, though interrelated, solar codes and standards. We also provide access for stakeholders to participate with members of standards making bodies through working groups and research activities to set national priorities on technical issues. The Solar ABCs is a centralized repository for collection and dissemination of documents, regulations, and technical materials related to solar codes and standards.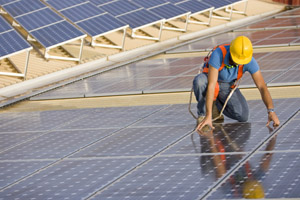 The Solar ABCs creates a centralized home to facilitate photovoltaic (PV) market transformation by:
Creating a forum that fosters generating consensus 'best practices' materials.
Disseminating such materials to utilities, state and other regulating agencies.
Answering code-related questions (technical or statutory in nature).
Providing feedback on important related issues to DOE and government agencies.
Learn more about solar codes and standards development:
The below organizations all publish codes and standards for PV products and each organization has its own process to develop and publish standards.